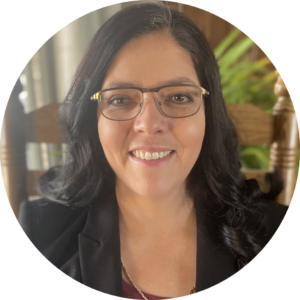 Monica is the founder and owner of Bilingual Interventions and is a seasoned Bilingual Speech-Language Pathologist. She completed her undergraduate and graduate studies at the University of New Mexico. Her undergraduate studies where both in Speech-Language Pathology and Spanish. She earned her Master's Degree in Speech- Language Pathology in 2001 and her Certificate of Clinical Competence from the American Speech-Language-Hearing Association in 2002. Recognizing the tremendous need for bilingual speech therapy, her passion for helping others and her dream of owning her own business, she opened Bilingual Interventions, LLC in 2009. 
     Monica is a Native New Mexican who recognizes the importance of evidenced based clinical services and the needs of our multi-cultural community who works tirelessly to support and advocate for her office and clinical team, as well as the clients and families served. She has a sincere commitment to provide services to all clients and families with a goal to improve quality of life and to successfully achieve and surpass expectations.
     Monica began her journey before graduating from high school. During her high-school senior year, she began pursuing her interests in business management and direct patient care while working as a Nursing Care Tech III in a Brain Injury Unit and in the Human Resources and Occupational/Medical Departments at Sandia National Laboratories (SNL), where she trained and worked in various positions, for 17 years. Her experience and the support she received from SNL gave her the foundation she needed to continue to follow her dream.
     As a Speech-Language Pathologist, Monica continued gaining experience through working at Hospital Acute Care settings, Inpatient and Outpatient Rehabilitation, Private Practice and Outpatient Clinical settings. Monica traveled twice to Mexico City with the Comunidad Crecer Program to participate and assist with the professionals and families in their community.
     Monica has participated in advanced and specialized training in the areas of neurological disorders and dysphagia for the adult and pediatric populations; speech and language acquisition with monolingual and bilingual children, as well as with pediatric feeding.  Her expertise includes administration and interpretation of Videoflouroscopic Swallow Studies using the MBSimp.
     In addition to the ongoing evidence-based clinical training, Monica regularly participates in current and relevant Health Care management courses.
     Monica knows the importance of and works with Medical Providers in the community to serve as a facilitator with ancillary providers to meet the needs of each and every client served in the clinic. 
     Monica contributes her personal success, to the unconditional love and unfailing support of her dear mother, her family, loved ones, friends and her strong faith. In addition to the personal success, she contributes the success of the business to the tremendous hard work and dedication of each and every member of the Bilingual Interventions team who all share the same desire to support our diverse clients and their families.
     Outside of being a Speech-Language Pathologist and a business owner, Monica is most proud of being mom to two beautiful children. Her pride, joy and energy comes from the love she shares with her children and the time they enjoy doing "whatever" together.
     The vision of providing various bilingual rehabilitation services, began in August of 2009 when Bilingual Interventions was opened. Bilingual Interventions was opened as a single provider in the areas of Speech, Language and Cognition in English and Spanish. Our relationships with physicians, clinics, hospitals and other providers and just as importantly, our clients, is what has driven our remarkable reputation and our growth. Through the years, specialized services were added to include pediatric and adult populations in the areas of Dysphagia, Feeding Difficulties, Voice, Accent Modification and TBI, as well as sub-contracting our services for pre-school screenings, schools and transition programs for the geriatric populations. Although we now have a team of fifteen (15) including Speech-Language Pathology, Physical Therapy and Administrative Staff with Occupational Therapy coming very soon, we hold on to providing an environment and services as a family.